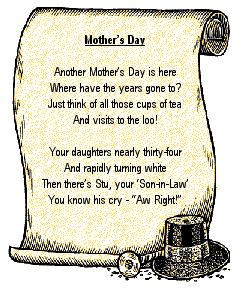 A Mother, Partner and worker too, how do I find the time to write poems? I ask myself that very same question around midnight normally when I get a verse in my head and need to write it down before I forget it.

Seriously though, I didn't realise I had this talent until about 12 months ago when I decided it would be nice to write a poem for my closest friend. This then led to a Mothers Day poem, then a Birthday poem and so on. My brother even thought they were good enough to ask me to write one for him. It must have made an impression because he has had a booklet with my first seven poems printed as a surprise for me and even designed my web site. Hows that for a brother?

Now in my second year of writing poems for people, many have come back for another one if not more. Personalising the poem for the individual makes all the difference which is something a card from a shop cannot achieve.

We cater for every type of poem. Some of which have been based on the following:
How to say you are sorry to your loved ones
Poems for loved ones birthday
Poems for christening days
Poems about loved ones

We will write a personal poem which you will be proud to give.